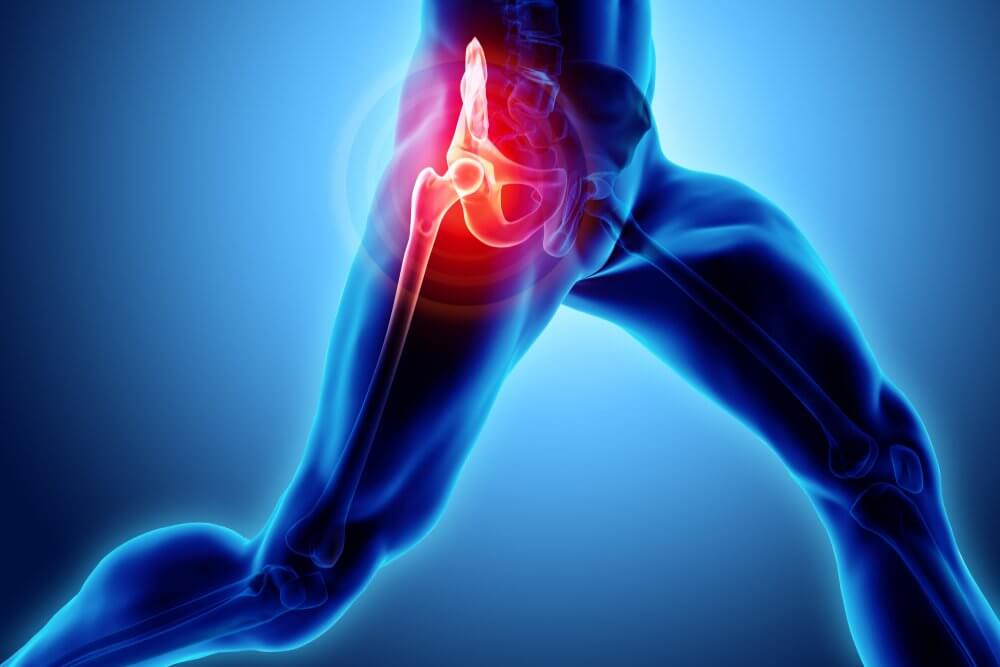 Discomfort in your hip and thigh due to pain such as aches, burning can be a common experience. Whereas, severe hip and leg pain can be debilitating. While in most cases it's nothing to be alarmed about, there are some instances in which pain in your hip and thigh can be a symptom of a more serious underlying condition.
Structure

In human anatomy, the thigh is the area between the hip (pelvis) and the knee. Anatomically, it is part of the lower limb.
In adults, three of the bones of the pelvis have fused into the hip bone or acetabulum which forms part of the hip region.
The single bone in the thigh is called the femur. This bone is very thick and strong (due to the high proportion of bone tissue), and forms a ball and socket joint at the hip, and a modified hinge joint at the knee.
The hip joint, scientifically referred to as the acetabulofemoral joint ,is the joint between the femur and acetabulum of the pelvis and its primary function is to support the weight of the body in both static (e.g. standing) and dynamic (e.g. walking or running) postures. The hip joints have very important roles in retaining balance, and for maintaining the pelvic inclination angle.
Symptoms

Signs and symptoms that warrant a visit to a medical professional include:
Most cases of thigh pain can be diagnosed accurately by your family physician or orthopaedist. Some thigh pain that is caused by nerve compression or neurological conditions may require a neurologist to get an accurate diagnosis and treatment plan.
When to see a doctor

Causes

Hip and leg pain can arise from a variety of conditions, including:
Diseases

Hip and leg pain may worsen with activity and prevent a full range of motion. In some cases, long-term pain can cause a limp or difficulty walking.
Injuries

Remember, if you're ever struggling with a pain for a long, don't suffer in silence, find the best doctor to your nearest location. And talk to a healthcare professional today!