Bone provides shape and support for the body, as well as protection for some organs. Bone also serves as a storage site for minerals and provides the medium—marrow—for the development and storage of blood cells. Bone tissue (osseous tissue) is a hard tissue, a type of dense connective tissue. It has a honeycomb-like matrix internally, which helps to give the bone rigidity. Bone tissue is made up of different types of bone cells.
Bone is constantly being created and replaced in a process known as remodelling. This ongoing turnover of bone is a process of resorption followed by replacement of bone with little change in shape. This is accomplished through osteoblasts and osteoclasts. Cells are stimulated by a variety of signals, and together referred to as a remodelling unit. Approximately 10% of the skeletal mass of an adult is remodelled each year. The purpose of remodelling is to regulate calcium homeostasis, repair microdamage bones from everyday stress, and to shape the skeleton during growth. Repeated stress, such as weight-bearing exercise or bone healing, results in the bone thickening at the points of maximum stress.
What is Avascular Necrosis?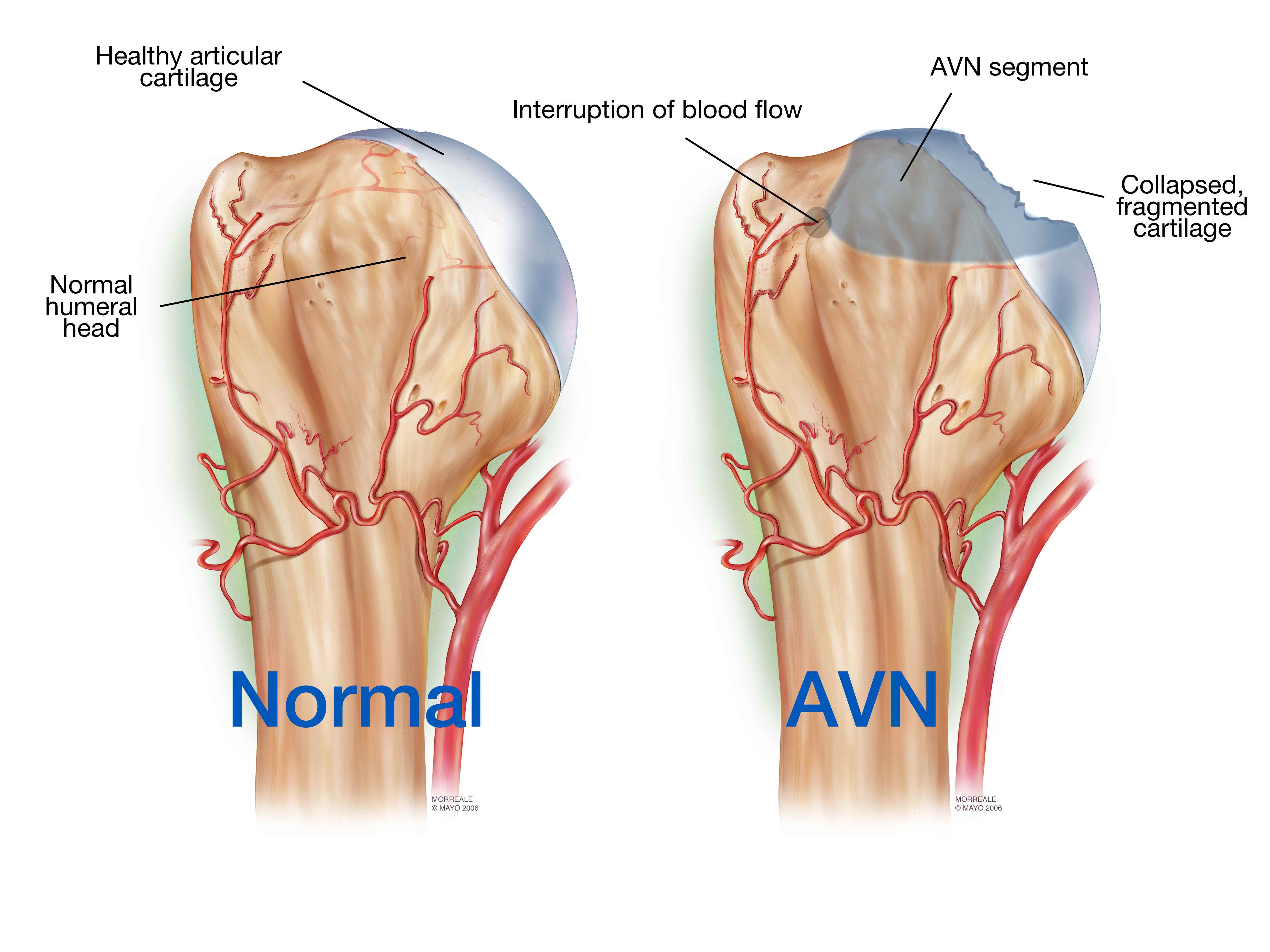 Avascular necrosis (AVN) is a disorder resulting from a temporary or permanent loss of blood supply to the bone. Blood carries essential nutrients and oxygen to the bones. When the blood supply is disrupted (avascular), the bone tissues begin to break down (necrosis). This can weaken the bone and eventually result in its collapse. If this occurs near a joint, it can lead to the collapse of the joint surface, resulting in pain and inflammation (arthritis). Avascular necrosis (AVN) is a disease of the bone. Necrosis is a general term that means a cell has died. AVN is also called:
osteonecrosis
aseptic necrosis
ischemic bone necrosis
bone infarction
AVN can occur in any bone, but most commonly affects the ends (epiphysis) of long bones such as the thigh bone (femur), causing hip and knee problems. Other common sites include the bones of the upper arms, shoulders, and ankles. AVN can occur in a single bone, but more commonly occurs in several bones at one time (multifocal AVN). AVN can sometimes be disabling, depending on what part of the bone is affected, how large an area is involved, and how well the bone rebuilds itself.
The damage to the bone occurs from lack of blood flow to bone cells. That often happens from an injury. It's also commonly due to damage from drinking too much alcohol or taking corticosteroids to manage a chronic health problem.
Without treatment, eventually the space between joints can collapse, and the bones can lose their smooth shape. Osteoarthritis can develop. Some people with AVN will need joint replacement surgery.
Read on to learn more about this condition.

The hip bone is the most commonly affected joint with AVN. AVN also commonly affects the knee. Less often, AVN affects bones in these areas:
shoulder
wrist
ankle
hands
feet
In its early stages, AVN may not cause symptoms. As blood cells die and the disease progresses, symptoms may occur in roughly this order:
mild or severe pain in or around the affected joint
groin pain that spreads down to the knee
pain that occurs when putting weight on the hip or knee
joint pain severe enough to limit movement
Pain may dramatically increase in intensity because of tiny breaks in the bone, called microfractures. These can cause the bone to collapse. Ultimately, the joint may break down and develop arthritis.
The time between the first symptoms and the inability to move a joint varies. In general, it ranges from a few months to more than a year. Symptoms may appear bilaterally, meaning on both sides of the body.
If AVN develops in the jaw, symptoms include exposed bone in the jaw bone with pain or pus, or both.
Causes and risk factors for the condition
Injury that slows or stops blood flow to a bone is the main cause of AVN. Other common risks and causes of AVN are:
drinking too much alcohol
smoking
Steroid drugs. Long-term use of these inflammation-fighting drugs, either by mouth or in a vein, leads to 35% of all cases of nontraumatic AVN. Doctors don't know why, but long-time use of medications like prednisone can lead to AVN. They think the meds can raise fat levels in your blood, which lowers blood flow.
Breaking or dislocating a hip can damage nearby blood vessels and cut the blood supply to your bones. AVN may affect 20% or more of people who dislocate a hip.
Blood clots ,  inflammation , and damage to your  arteries . All of these can block blood flow to your bones.
childhood diseases including Legg-Calve Perthes disease
It's not always clear what causes the problem with blood flow to the bone. Sometimes AVN affects healthy people. It may come on spontaneously, seemingly without a cause. Spontaneous AVN in the knee, for instance, is called SPONK or SONC.
Some fewer common causes of AVN include:
the bends, also called decompression sickness and caisson disease, a condition caused by the rapid release of nitrogen into the blood
taking bisphosphates, such as zoledronate/zoledronic acid (Reclast, Zometa) or pamidronate to treat cancer in the bone (These drugs are associated with rare instances of AVN in the jaw.)
chemotherapy or radiation
high cholesterol, high triglycerides, or both
Decompression sickness, which causes gas bubbles in your blood
Diabetes
Gaucher's disease
HIV infection
lupus
organ transplants, especially a kidney transplant
pancreatitis
sickle cell anaemia or other blood disorders
Men develop AVN more than women unless the cause is injury or lupus. It most often affects people ages 30 to 60. But people of any age can develop AVN.
To lower your risk of AVN:
Cut back on alcohol. Heavy drinking is a leading risk factor for AVN.
Keep your cholesterol in check. Small bits of fat are the most common thing blocking blood supply to you bones.
Use steroids carefully. Your doctor should keep tabs on you while you're taking these medications. Let them know if you've used them in the past. Taking them over and over again can worsen bone damage.
Don't smoke. It boosts your AVN risk.