The older you get, the more likely it is you'll get rotator cuff tendinopathy, or tendinosis. This type of shoulder pain is more common if you're over age 30. If not treated, it can lead to stiffness or weakness in your shoulder. Most of the time, it's easily treated.
This can happen because of an injury to your shoulder. You might fall on your outstretched arm. Or it could be from repeated motions in sports or on the job, especially if your work involves heavy lifting or a lot of reaching over your head.
Shoulder tendonitis is often caused by a tendon being pinched by nearby structures. The condition often occurs in certain sports that require your arm to move over your head repeatedly. Such sports include baseball, weightlifting, volleyball, racket sports, and certain swimming strokes etc.
Each of your shoulders is made up by a group of muscles and tendons called a rotator cuff. This keeps your upper arm inside your shoulder socket. It also gives you the strength and motion to rotate and lift your arms.
If the tendons in your rotator cuff are swollen or damaged, you could have rotator cuff tendinitis.
People older than age 40 are most likely to have rotator cuff problems, in general. Genes may also play a part. If someone else in your family has shoulder issues, then you may be prone to get them, too.
Shoulder tendonitis:
Shoulder tendonitis is an inflammation of your rotator cuff or biceps tendon. Your rotator cuff consists of the muscles and tendons in your shoulder. They connect your upper arm bone to your shoulder blade.
Your injury may range from mild to severe inflammation of most of your rotator cuff. When your rotator cuff tendon gets inflamed and thickened, it is also called rotator cuff tendonitis. Your rotator cuff tendon may get trapped under the top bone of your shoulder (acromion). It is formed by a part of your shoulder blade (the scapula).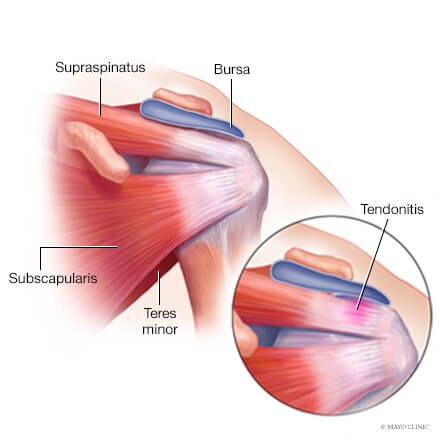 Structure:
Your shoulder is made up of three bones: your upper arm bone (humerus), your shoulder blade (scapula), and your collarbone (clavicle).
Your arm is kept in your shoulder socket by your rotator cuff. These muscles and tendons form a covering around the head of your upper arm bone and attach it to your shoulder blade.
There is a lubricating sac called a bursa between the rotator cuff and the bone on top of your shoulder (acromion). The bursa allows the rotator cuff tendons to glide freely when you move your arm.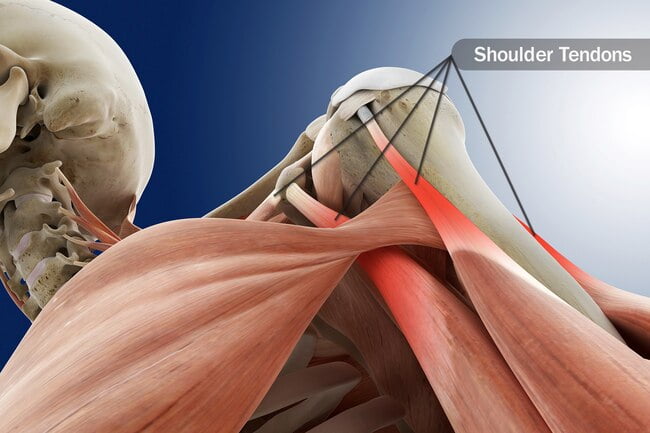 Symptoms:
The symptoms of rotator cuff tendinitis tend to get worse over time. Initial symptoms may be relieved with rest, but the symptoms can later become constant. Symptoms that go past the elbow usually indicate another problem.
Symptoms of rotator cuff tendinitis include:
stiffness
pain and swelling in the front of your shoulder and side of your arm
pain triggered by raising or lowering your arm
a clicking sounds when raising your arm
pain that causes you to wake from sleep
pain when reaching behind your back
a loss of mobility and strength in the affected arm
Most cases of tendinitis respond to self-care measures. See your doctor if your signs and symptoms persist and interfere with your daily activities for more than a few days.
Causes:
Although tendinitis can be caused by a sudden injury, the condition is much more likely to stem from the repetition of a particular movement over time. Most people develop tendinitis because their jobs or hobbies involve repetitive motions, which put stress on the tendons.
Using proper technique is especially important when performing repetitive sports movements or job-related activities. Improper technique can overload the tendon — which can occur, for instance, with tennis elbow — and lead to tendinitis.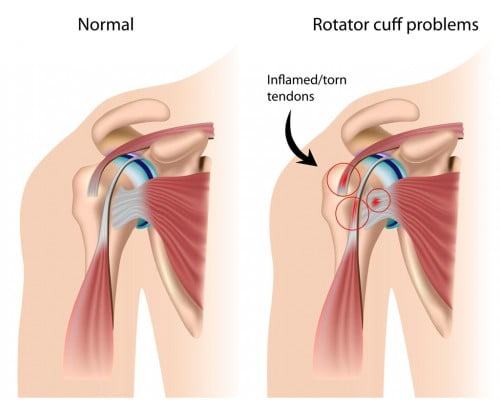 Risk factors:
Risk factors for developing tendinitis include age, working in particular jobs or participating in certain sports.
As people get older, their tendons become less flexible — which makes them easier to injure.
Occupation:
Tendinitis is more common in people whose jobs involve:
Repetitive motions
Awkward positions
Frequent overhead reaching
Vibration
Forceful exertion
Sports:
You may be more likely to develop tendinitis if you participate in certain sports that involve repetitive motions, especially if your technique isn't optimal. This can occur with:
Baseball
Basketball
Bowling
Golf
Running
Swimming
Tennis
Complications:
Without proper treatment, tendinitis can increase your risk of experiencing tendon rupture — a much more serious condition that may require surgery.
If tendon irritation persists for several weeks or months, a condition known as tendinosis may develop. This condition involves degenerative changes in the tendon, along with abnormal new blood vessel growth.
Prevention:
To reduce your chance of developing tendinitis, follow these suggestions:
Ease up.Avoid activities that place excessive stress on your tendons, especially for prolonged periods. If you notice pain during a particular exercise, stop and rest.
Mix it up.If one exercise or activity causes you a particular, persistent pain, try something else. Cross-training can help you mix up an impact-loading exercise, such as running, with lower impact exercise, such as biking or swimming.
Improve your technique.If your technique in an activity or exercise is flawed, you could be setting yourself up for problems with your tendons. Consider taking lessons or getting professional instructions when starting a new sport or using exercise equipment.
Take time after exercise to stretch in order to maximize the range of motion of your joints. This can help to minimize repetitive trauma on tight tissues. The best time to stretch is after exercise, when your muscles are warmed up.
Use proper workplace ergonomics.If possible, get an ergonomic assessment of your workspace and adjust your chair, keyboard and desktop as recommended for your height, arm length and usual tasks. This will help protect all your joints and tendons from excessive stress.
Prepare your muscles to play.Strengthening muscles used in your activity or sport can help them better withstand stress and load.