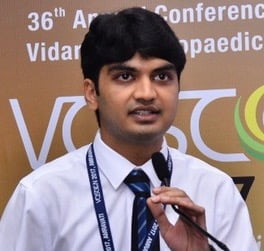 Dr. Gaurav Bhutada
Specialist : Spine
I am completely committed to providing the best possible care to patients. And by referring to AgileOrtho group, you're choosing first-rate care for your patient, as well as the lower cost and greater convenience associated.
Dr. Gaurav Bhutada
PROFILE
MBBS,MS(ORTHO)

No.2016040665
Introduction
---
Current Hospital Appointments :
Lata Mangeshkar Hospital, Nagpur
Timings: 9 AM to 4 PM
Specialized in :
Personal Information
Experience : 3 years
E-mail : info@agileortho.in
Consultation Fee : 300
About Dr. Gaurav Bhutada
Summarise What You Do :
Spinal Disc Surgery
Lower Back Pain Treatment
Spinal Surgery
Minimally invasive spine surgery
Open Spine Surgery
Qualification And Fellowship :
MBBS from Datta Meghe Institute of Medical Sciences, Sawangi (Meghe), Wardha, India. (2010-2015)
MS (Masters in Orthopaedic Surgery) from NKP Salve Institute of Medical Sciences and Research, Nagpur, Maharashtra, India (2017-2020)
Professional Memberships, Associations, Commitees :
➢ Certified for A.O. Basic Principles of Fracture Management and Member A.O. Trauma
Conferences :
• Presented paper and e-poster titled "Efficacy of platelet-rich plasma in chronic plantar fasciitis" in VOSCON 36th Annual Conference in October 2017 at Amravati, Maharashtra.
• Presented seminar on "Anatomy of flexors and Extensors in hand and forearm" in VOS Hand Surgery Meeting at Nagpur in January 2018.
• Presented e-poster "Neglected developmental dysplasia of the hip with compensatory knee valgus – a case report" at Mumbai in WIROC December 2018.
• Presented e-poster "An effective method of treatment: The role of silver ion solution dressings in promoting healing of hard to heal wounds!" at Mumbai in WIROC December 2018.
• Presented e-poster "Efficacy of local infiltration of platelet-rich plasma in chronic plantar fasciitis" at Mumbai in WIROC December 2018.
Seminars :
VOSCON 36th Annual Conference​​​​Amravati, Oct.2017
VOS Hand Surgery Meeting​​​​​Nagpur, Jan. 2018
NAM, Arthroscopy Meet 2018​​​​Nagpur, Jan. 2018
Basic Operative Surgical Skill Workshop​​​Nagpur, March 2018
​A.O. Basic Principles of Fracture management ​​Course Patna, May 2018
CME on Osteoporosis​​​​​​Nagpur, Sept. 2018
VOSCON 37th Annual Conference​​​​Nagpur, Oct. 2018
A.O. Trauma introductory Principles ​​​of Fracture Fixation Course ​Nagpur, Oct. 2018
​​​
​Knee arthroscopic workshop​​​​​ Akola, 2018
​Workshop and CME on High Tibial Osteotomy​​Nagpur, Dec. 2018
​Indian Orthopaedic Association Post-graduate​​ ​Instructional Course Wardha, Oct. 2018
​Academic Symposium, KEM Orthopaedics PG
​Foundation Course​​​​​​Mumbai, Nov. 2018
​
​Hip and Knee Arthroplasty workshop​​​​Wardha, Feb. 2019
​Primary Hip and Knee Arthroplasty Cadaver​​​ ​Course​​​​​​​Bangalore, March 2019
​Advanced Trauma Symposium​​​​Nagpur, June 2019
​Nagpur Spine Course​​​​​​Nagpur, August 2019
Publications And Events :
1. HEMATOLOGICAL ABNORMALITIES IN CIRRHOSIS OF LIVER; Dr Gaurav Bhutada, Dr Kaushika Rautray, Dr Sourya Acharya, Dr Samarth Shukla, INDIAN JOURNAL OF APPLIED RESEARCH : Volume 7 | Issue 3 | March 2017.
2. OUTCOMES OF COLLE'S FRACTURE TREATED WITH OPEN REDUCTION AND INTERNAL FIXATION; Dr S. Deshmukh, Dr Gaurav Bhutada, INTERNATIONAL JOURNAL OF SCIENTIFIC RESEARCH: Volume-8 | Issue-6 | June-2019.
3. OUTCOMES OF ILIZAROV RING FIXATION IN INFECTED NONUNION OF TIBIA; Mankar S, Mohammed F, Bhutada G, Sakhare R. J Orthop Traumatol Rehabil 2020;12:62-6.