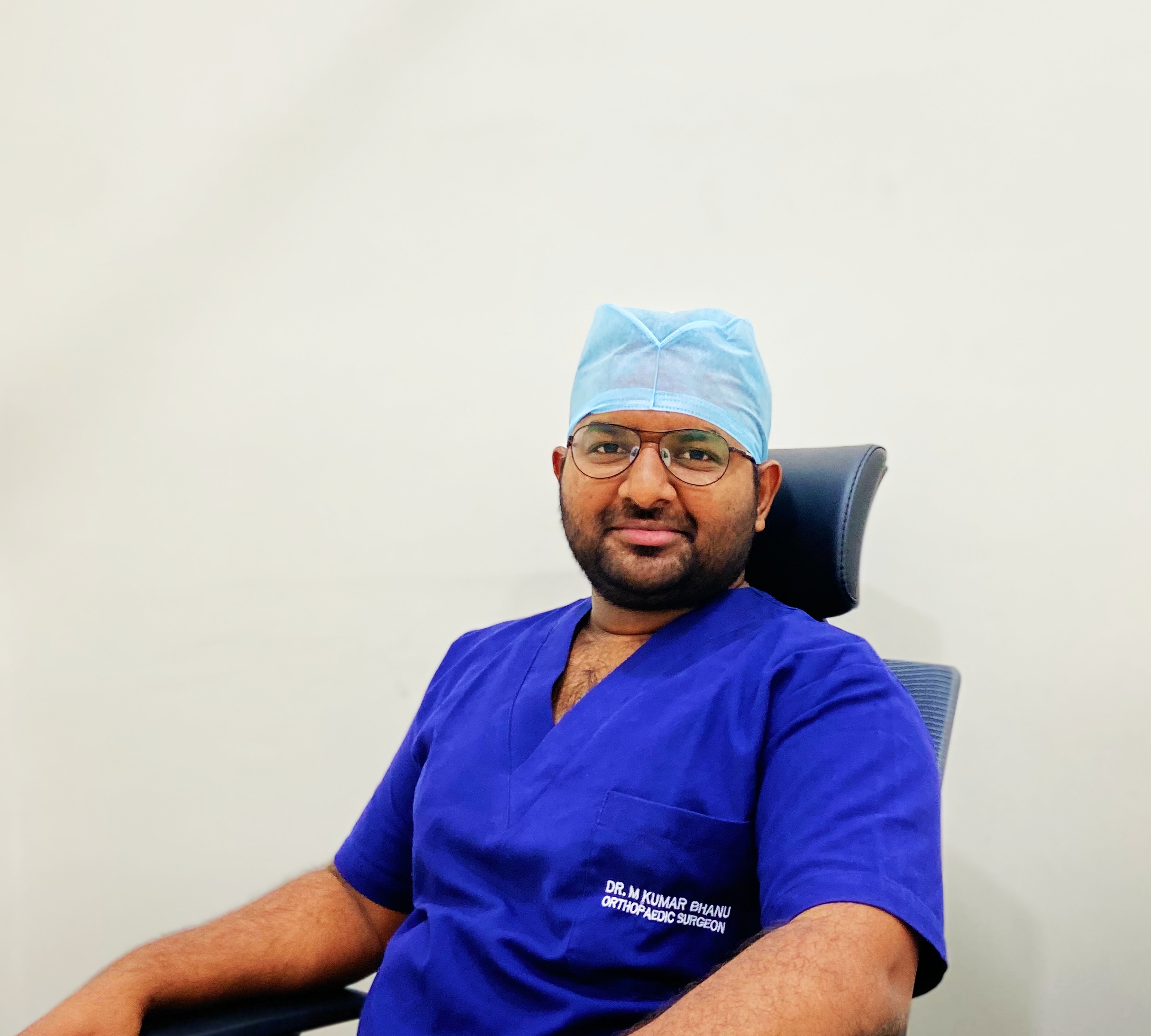 Dr.M KUMAR BHANU
Specialist : Arthroplasty, Arthroscopy, Trauma
I am completely committed to providing the best possible care to patients. And by referring to AgileOrtho group, you're choosing first-rate care for your patient, as well as the lower cost and greater convenience associated.
Dr.M KUMAR BHANU
PROFILE
MBBS , D ORTHO,( DNB ) Orthopaedic
Fellowship in Robotic joint replacement fellowship in Arthroscopy – sports medicine.
---
Current Hospital Appointments :
#Nakshatra hospital, LB Nagar
Timings :- MON-SAT 10:00 AM - 02:00 PM
Specialized in :
"Complex trauma, Robotic joint replacement
And Arthroscopy, sports medicine "
Personal Information
Experience : 5+ years
E-mail : bhanu79.kb@gmail.com
Consultation Fee : 500
About Dr.M KUMAR BHANU
Profile Introduction :
Dr.M.Kumar Bhanu is a companimate and dedicated orthopaedic surgeon par excellence, trained with executive faithly and tertiary orthopaedic institutes which is dream for every doctor in country. with rich exposure in the field of ROBOTIC joint replacement, sports injuries, complex trauma, and FOOT AND ANKLE related problems. with evolles efforts even during covid times, dr.kumar bhanu served patients, and successfully developed two clinics in the city which run on strong moral and ethical valued orthopaedic clinics in vanasthalipuram and dilsukhnagar.
Summarise What You Do :
Robotic joint replacement.
Revision joint replacements.
FOOT AND ANKLE
Arthroscopy- Sport medicine.
Trauma surgeon.
Qualification And Fellowship :
"MBBS chalmeda Anand Rao medical college 2008.
D (Ortho) kamineni institute of medical sciences 2017.
DNB ORTHOPAEDIC Udai Omni 2020.
Fellowship in shashwat hospital with
Dr. H Saraf Pune."
Professional Memberships, Associations, Commitees :
"Telangana orthopaedic society association (TOSA)
Indian foot & ankle association (IFAS)"
Awards :
Outstanding paper award in indian foot and ankle conference-2021.
Conferences :
paper presentation in INDIAN ORTHOPAEDIC ASSOCIATION conference-2021.
paper presentation in ORTHOPAEDIC ASSOCIATION OF SOUTH INDIAN STATES-2020,2021.
paper presentation in TELANGANA ORTHOPAEDIC ASSOCIATION conference-2020,2021.
Publications And Events :
Outstanding paper award in indian foot and ankle conference-2021.